I haven't made contact for some weeks now, however the silence is the result of exciting pressure of work which has delayed this email.  That said, our members will gain significant benefit from the work being undertaken which I know will please you.
To bring you up to date, the business events won for last month (May) delivered an immediate $60 million into the local economy, even before we include the impact of the economic tail. June is also successful with, for example, Hort Connections (Hortco) 2023 a great example of us showcasing Adelaide to a new audience.
Held in SA for the first time at the Adelaide Convention Centre between 6 and 8 June, Hortco 2023 was the largest fresh produce conference and trade show held in its seven-year history. It attracted 3,000 delegates and more than 200 exhibitors demonstrating innovative horticulture solutions. The feedback from organisers was extremely positive, and Adelaide is now well placed to welcome the event back in future years.
Winning business events back as regular visitors, especially those linked to the State Government's targeted economic growth sectors (as Hort is) is a vital part of what we aim for.
June is also attracting a healthy range of events including:
Australian Veterinary Association Annual Conference 2023
Health Technology Assessment international (HTAi) Annual Meeting
Cancer Nurses Society of Australia Annual Congress 2023
Overall, we are finishing FY23 strongly, and the pipeline for FY24 and beyond is promising. During the last two months, the business development team has converted 30 bids into wins for the State, with an economic impact of over $35m and a forecasted 32k bed nights. Four of these are international events with the health, agriculture, IT and education sectors leading the way. Some have short lead times, so for further details please check your opportunities report.
We are keenly aware that whilst the economy must benefit from a successful event, our members are paramount in everything that we do. If you feel that your team could benefit from additional training in how to access sales leads and opportunities through our CRM, I strongly encourage you to contact Mary White on 0439 820 923 to arrange a refresher session.
The Business Events Adelaide team has also been active globally. We attended IMEX In Frankfurt in partnership with the Adelaide Convention Centre, the largest trade show in Europe for the global meetings and events industry with over 2,000 exhibitors and 3,000 buyers.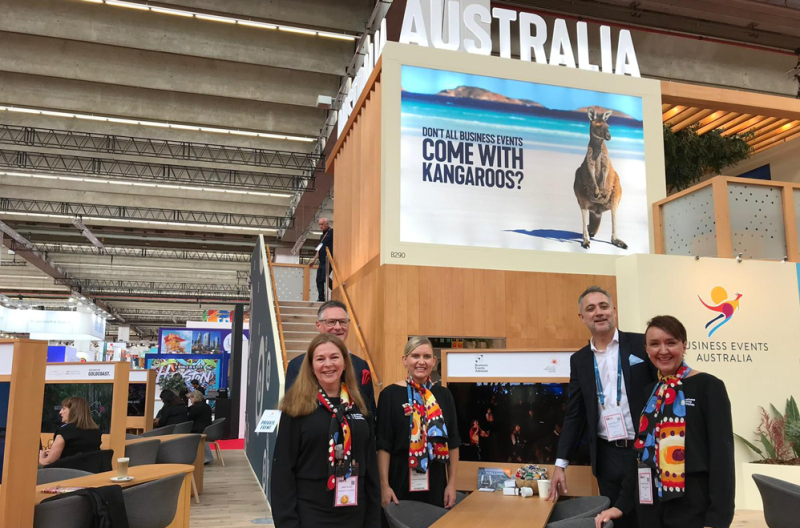 It was a busy and positive few days, and I am always struck by how much we punch above our weight, both as a city and as a nation, when up against the huge resources of our global competitors. I look forward to informing you of the direct results from IMEX as we convert the strong interest in Adelaide to bids won for you to benefit from.
Meanwhile Helen Xu, our Corporate Incentive Director for Asia, recently presented to an influential group of buyers in Beijing and Kuala Lumpur, showcasing the benefits of group activities in our clean, green, walkable city. And again more news from that in later emails.
As we announced earlier this year, we are delighted that Adelaide will be the host city for Dreamtime this November. Returning for the first time since 2019, Dreamtime provides an opportunity for the business events sector to connect with more than 120 qualified corporate incentive agents and media from around the world.
Business Events Adelaide, with the strong support of the South Australian Government, (where we work directly with the Department of Premier and Cabinet) is aggressively pursuing corporate incentive groups, and Dreamtime offers a fantastic opportunity for members to showcase their venues and services.
Applications to exhibit are open between now and Monday 17 July. Please click here to begin your application or contact Marcia Mudge on 0419 802 162 if you have any questions.
Closer to home, your Business Events Adelaide team has welcomed three new team members:
Scott Houston has joined as Chief Operating Officer. Scott will be responsible for the smooth running of our administrative functions including finance, human resources and governance.
Tony Saulters has commenced as General Manager Strategy & Public Affairs. Tony's role will be to position Business Events Adelaide to maximise the support of members and stakeholders.
Dr Tamara Gray has taken on the role of Manager Research. Tamara brings a scientific lens to the process of identifying new opportunities and providing the necessary groundwork needed to put together a successful bid.  
These appointments complete our recent expansion.  We are confident that this re-enforced team and structure will provide a strong foundation from which to not only bid for - and win - more events for the State, but also to assist each of our members in making the most of these opportunities.
Finally, a reminder that the next Members' Business Exchange networking event will be held at The Playford MGallery (120 North Terrace) on Monday evening, 26 June from 4:30pm to 6pm. Click here to register your attendance.
I will be an apology due to a mission into Asia with Tourism Australia (which has an excellent emphasis on business events). However, I know the team looks forward to seeing you all there.
Kind regards

Damien Kitto
Chief Executive Officer