Business Events Adelaide is pleased to announce the appointment of Dr Tamara Gray (Leclercq) to the position of Research Manager.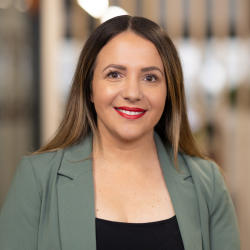 Dr Gray is a science innovation professional and brings with her a wealth of knowledge in a variety of South Australia's key innovation precincts, including health, science and medical research, most recently as the Operational Lead for Adelaide BioMed City.
Dr Gray holds a PhD in Biochemistry, spending a significant part of her career as a postdoctoral researcher. She moved into research management in Precision Cancer Medicine at South Australia's premier health research institute, the South Australian Health and Medical Research Institute (SAHMRI).
Business Events Adelaide Chief Executive Officer, Mr Damien Kitto, said 'The appointment of Tamara to the Business Events Adelaide team is a real coup. Over 60% of business events won for Adelaide in 2023 were health science related, demonstrating that this is a key area of focus. Having someone of Tamara's calibre and experience as part of our business development team will better equip us to identify, profile and bid for business events that match South Australia's strategic vision'.
'We look forward to Tamara supporting Business Events Adelaide in securing business events that foster meaningful collaborations and economic investment to accelerate the growth of our State'. Mr Kitto added.
Media enquiries:  Damien Kitto CEO Business Events Adelaide     +61 401 124 413